Hail Damage Repair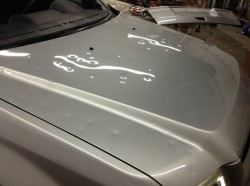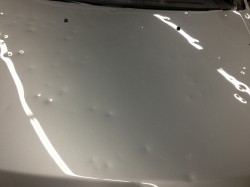 Discovering hail damage to your car or truck after a sudden storm can be extremely frustrating. Even small hail stones can leave significant dent marks across the hood and trunk of your vehicle and leave you in need of repairs. These minor dents and dings require minor repair, which makes paintless dent removal the perfect choice.
Our team specializes in express dent repair. This means we focus our efforts on making small, cosmetic blemishes, like hail damage, disappear quickly at an affordable rate. Repairing minor hail damage is usually a quick process and is significantly more affordable than replacing the damaged panel. Even if your vehicle has sustained severe hail damage, you can be confident in our abilities, since we have many years of experience in repairing vehicles.
Dent Removal & Hail Repair 817-717-1888 or 214-613-1986 Door Dings Hail Damage

Dent Hail Repair of Hail Repair 214-613-1986 provides the best quality paintless dent repair and automotive hail damage removal for the DFW Metroplex. With over 50 years of experience we are committed to serving you. If your vehicle was damaged in the recent hail storms, was dented in a parking lot or by a golf ball , we can repair your car to its original condition without the need for paint or parts by using Paintless Dent Removal (PDR).

Deductible Help & Rental Car Help | Immediate availability with quick turnaround.

We have an A+ Rating with the BBB. We can take care of the entire repair and claim. We are locally owned and operated. Over 50 Years of combined Experience in Paintless Dent Repair and claims Claims Adjusting. We Work with ALL insurance companies, we work with your adjuster. We have a  Lifetime Warranty and we are fully insured.

Dent Hail Repair of Hail Repair 817-717-1888 or 214-613-1986.