Paintless Dent Repair PDR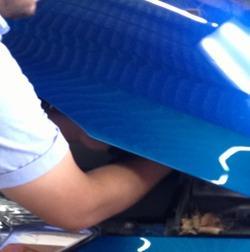 Dent Hail Repair Irving TX: Paint less dent repair is the process of removing dents, dings and hail damage from cars and trucks. Paint less dent repair covers small and large dents where the paint is unblemished, and it works well for cars that have been manufactured within the last 20 years due to their high-strength metals and resilient paints. Also, PDR can be used on cars with dents that are not near the edge of a panel, and on panels that have had no previous repair work completed. Our technicians utilize innovative tools to massage the metal back into place from underneath the dents. This repair process eliminates the need for paint and body filler. Through the use of PDR the vehicle maintains its factory finish.

Dent Hail Repair 817-717-1888 or 214-613-1986 DFW Hail Repair

Dent Hail Repair of Dent Repair provides the best quality paintless dent repair and automotive hail damage removal for the DFW Metroplex. With over 50 years of experience we are committed to serving you. If your vehicle was damaged in the recent hail storms, was dented in a parking lot or by a golf ball , we can repair your car to its original condition without the need for paint or parts by using Paintless Dent Removal (PDR).
Deductable Help & Rental Car Help
Immediate availability with quick turnaround.

We have an A+ Rating with the BBB. We can take care of the entire repair and claim. We are locally owned and operated. Over 50 Years of combined Experience in Paintless Dent Repair and claims Claims Adjusting. We Work with ALL insurance companies, we work with your adjuster. We have a  Lifetime Warranty and we are fully insured. DFW Dent Repair of Dent Repair 817-717-1888 or 214-613-1986.